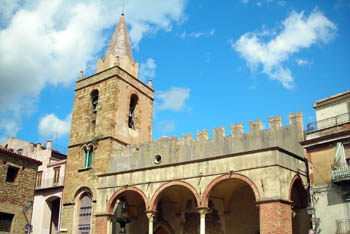 Castelbuono is 423 metres above sea level , in a valley at the foot of the Madonie mountains , just over 20 km from Cefalù and 100 km from Palermo.
Today Castelbuono counts 10.000 inhabitants and it is one of the most lively towns of the Madonie Park. Few zones in Sicily are comparable to the Madonie for their variegated and heterogeneous historical and artistic patrimony.
An ideal position to visit the whole park, but not only, because from here you can easily reach Palermo, Agrigento, Catania, Trapani and visit the whole Sicily.
CAMPANILE CHIESA CROCIFISSO
Benvenuti. Welcome. Benvidos. Bienvenue. Bienvindos. Willkommen.
For information and estimates:
Phone: (+39) 0921-676303 - Mobile: (+39) 338-3543623 - e-mail: info@casaelda.it